Are you interested in owning your own business but don't know where to start? Consider the labor for hire moving business!
Similar to a franchise system, our business model provides turn-key information to help you set up your new business.
Since the recession, people have been looking for more economical ways to do pretty much everything. They are becoming more self-sufficient and are cutting costs by doing as much work as possible on their own. The moving industry continues to grow as more companies begin offering mobile storage, freight, truck rental and other moving options. The growth of these companies creates a demand for labor-for-hire solutions. From packing, loading, unloading and furniture movement, experienced moving labor is in high-demand.
We want to help you take advantage of this exciting industry!
 "Get Moving! Your First Move into Owning Your Own Business" is a comprehensive business model based on the parent company, All About the Move. Using this comprehensive business model guide with step-by-step instructions, forms, letters and legal waivers in an easy to follow format, you can create your own business without any prior experience.
Included in this business model are:
Hard copy book including

 Step-by-step instructions for starting, organizing, and marketing your business
3 legal waivers for contractors and customers
34 forms and templates including sample advertisements, a bill of lading, bid sheets, letter templates, independent contractor materials, and more

Video featuring a day in the life of a moving coordinator
Editable CD with all forms and waivers that you can customize for your new business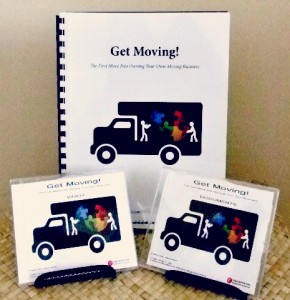 Due to non-compete restrictions, this opportunity is only available to interested parties outside of a 100 mile radius of Athens, Georgia.
For more information, check out our FAQs.
If you are interested in this opportunity, send us an email with your name, address and phone number to getmovingmodel@gmail.com or fill out the form below.